Haslemere Border Athletic Club members take on challenges all over the country
Friday 8th July 2022 6:00 am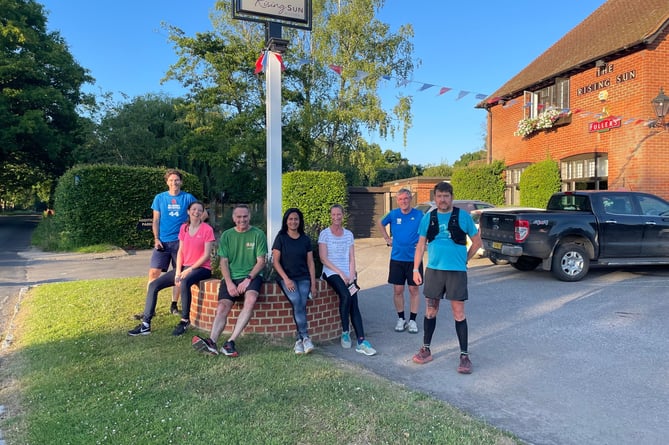 Milland Social Pub run, the first group back from the trail run
(Tindle )
Subscribe newsletter
Subscribe to our email and get updates right in your inbox.
The South Downs Way became alive with the sight of Haslemere Border Runners who, if they weren't running, could be spotted marshalling and spectating in the glorious June sunshine.
For two athletes in particular, their morning on Saturday, June 11 had already begun in the very early hours in Winchester as they were both participating in the Centurion SDW 100.
It passes through the South Downs Way, only in the opposite direction to those running in the South Down Trail events.
Tom Millns and Luke Brocks had taken on the inaugural challenge, which travels through the Chalk Rideway, just outside Winchester – the capital of Saxon England – before heading east to the finish in Eastbourne.
During the race, runners not only tackle a mere 100 miles – and 12,700ft of elevation – but they are also tasked with a total of 95 gates and or stiles to open and climb over on the way!
There is a cut-off point of 30 hours in which to complete the race. Both runners finished triumphant in a time of 22:43.16 and received their prestigious Centurion medal for their effort.
On the very same day, and at the very same venue, a number of runners were taking part in the South Downs Trail half marathon and 10k event.
Both races started in the lovely surroundings of Queen Elizabeth Country Park in Petersfield, and took the runners out to join the South Downs Way on a network of bridle paths through the glorious downs and forested countryside.
The 10k runners then split on to the Staunton Way and ran along to join the South Downs Way at Buriton Gate before returning to Queen Elizabeth Country Park.
Hesta Gillham ran a superb race to pick up second lady in a time of 52.09.
She was followed by her regular running buddy Gemma Reeder who also ran very well in a time of 1:02.24, an excellent time on a challenging course.
The half marathon was a gruelling challenge, up and down the Surrey Hills in blistering heat, but this did not deter Susie Adams in a time of 1:58.24.
The following day saw further HBAC activity, and kicking off the day was Paul Seymour, who had set himself up for not one challenge but for three separate disciplines, by taking part in the Mid Sussex Triathlon.
The morning began with a 400m swim, followed by a 30k bike ride and finishing with a 5k run – all the while being timed throughout each changeover, switching footwear and adjusting head gear!
Paul completed each activity in some impressive times – swim (5.50), bike (44.40) and run (20.17, PB) – which also earned him third place overall and an age group win... as well as a recipient of a hand-made wooden medal.
A little further away, another HBAC runner was putting himself through yet another ultra challenge by taking part in the Big Sea 50 in the beautiful Island of Purbeck in the heart of Dorset.
The race is part of the Classic Element series: Air, Fire, Water and Earth and this event was all about 'water', with runners starting and finishing their race on the soft, sandy beaches of Knoll in Studland.
Dean Kellaway was all set with his faithful sun hat and up for the challenge, which took the runners out on to the Purbeck Hills, passing through some of Dorset's prettiest landmarks and historic buildings – including the village of Corfe Castle – before returning back to the beach for the finish.
What a day to be by the seaside! With glorious sunshine – albeit a rather hot temperature for running – Dean ran a superb race in a time of six hours, finishing within the top ten.
Also on Sunday morning, HBAC runner Steve Loveday was himself setting off on his very first ultra run and his challenge was the gruelling Race to the Kings 50k, which starts at Glorious Goodwood.
Runners left the prestigious showground for the delightful village of Arundel, with views of the historic castle rising above it. Then it was up, up and away into the hills of the South Downs, taking in the picturesque views on what really was a beautiful summer's day, before heading back into Goodwood for the finish.
Steve ran a fantastic race, and finished in an impressive time of 8:34.36.
HBAC runners do also like to socialise – and what better way than on a pub visit, which is exactly what a group of 30-plus runners did for the second Trail Adventure.
It was mapped out and led by Dean Kellaway, starting and finishing at the Rising Sun pub in Milland.
The route was approximately five miles and featured not one, not even two, but 15 stiles, as well as various animals including llamas, sheep, one or two rather frisky horses and some cows.
It was all followed by a drink, food and a chat to round off a fabulous evening!
The next day saw the return of the popular Elstead marathon, now in its 110th year.
The annual fundraising event for Elstead Scouts took runners along a challenging five-mile trail route, through woodland, heathland and farm fields, and finished with the infamous river crossing.
Club member Steve King organised a team of HBAC runners to take part in the event, which saw club coach Daniel Allaway bring the team home in 33.45, followed by Josh Wreford (34.47), Sarah Smith (39.38), Lawrie Baker (39.50), Katie Simmonds (42.05), Stephen Sutton (44.45), Paul Fleming (45.37), John W Dickinson (46.40), Dudley Walker (47.26), Steve King (47.29), Dave Bateman (49.27), Louise Bampton (52.16), Tom Bampton (52.16), Steph Moss (52.40), Lauren Blatherwick (52.41), Karen Sinclair (56.14), Sam Walker (58.14), Lorraine Herring (1:02.59), Ann Varnes (1:03.03), Helen Crainey (1:03.26), Yve Gilding (1:04.07) and Dave Card (1:09.34).
Despite the river crossing, everyone enjoyed the race, with many sampling the barbecue afterwards and liquid refreshments in the local hostelry.
The weekend also saw others take on a number of challenging events.
The Cotswold Way was the setting for the Race to the Tower, a 52.4-mile route along the Cotswold Way.
It involves a mix of woodland trail, grassland and gravel tracks and many kissing gates, stiles and swing gates to tackle on route and the final climb to the finish line at Broadway Tower.
James Turner, competing in his first ultra, completed the course with its elevation gain of 2,423m in an amazing time of 11:33.39.
While James was competing in the Cotswolds, Karen Sinclair and Steve Taylor headed for Dorset and the delightful village of Sydling St Nicholas, a stone's throw away from the famous Cerne Abbas giant.
The race itself was the inaugural Giant's Head half marathon – to complement the long-established full marathon – which made it even more special for those runners taking part.
And they were indeed treated to a challenging race, with some spectacular views and weather.
Steve finished in 2:01 and Karen 2:47, and both were rewarded with a unique medal and accompanying t-shirt featuring the famous 'giant'.
Runners were also invited to a Sunday roast and evening barn dance – if they still had the energy left in their legs!
Despite the challenging hills, Karen declared she would definitely return to take on the Cerne Abbas giant.
The Olympic venue of Eton Dorney was the setting for Polly Rogers Dixon as she competed in the sprint triathlon.
The venue provided an idyllic triathlon environment with clean, clear water and flat, closed-road courses.
The sprint triathlon involved a 750m swim, 19.2km ride and a 5km run, and Polly completed the events in an excellent overall time of 1:20:54, with splits of swim 17.38.2, T1 1.36, cycle 36.50.2, T2 57.5 and run 23.51.8.
The excellent time secured Polly sixth lady overall and first place in her category, an incredible 12 minutes ahead of the second-placed lady.
Philomel Bennett and Ann Varnes
Comments
To leave a comment you need to create an account. |
All comments 0