Haslemere Border runners take part in races across the country
Sunday 5th June 2022 6:00 am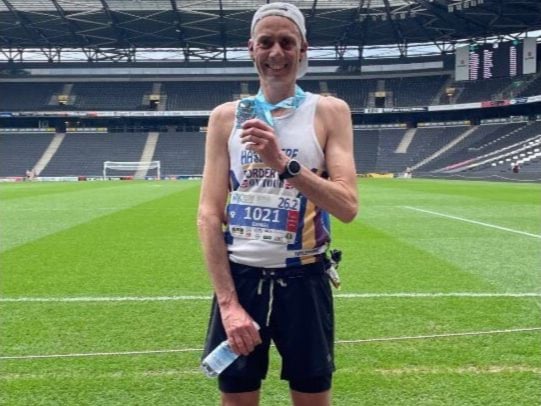 All smiles for head coach Daniel Allaway after the Milton Keynes Marathon
Subscribe newsletter
Subscribe to our email and get updates right in your inbox.
The start of May brought fields and trails abound with glorious bluebells – and the beginning of a very busy month in the running calendar!
The first weekend we were blessed with some stunning sunshine – albeit a bit hot! – and a group of Haslemere Border Athletes were taking part in a number of races both in the UK and abroad.
On May 2, the Big Way Round, now in its second year and organised by Big Feat Events, took place, offering four distances for runners to choose from – 14 miles through to 50k entirely embedded within the heart of Winchester.
Three of HBAC's finest athletes chose the 50k as their distance, in preparation for their 100-mile run on the South Downs later in the summer. The route was extremely challenging, in light of the elevation entailed within the route (2,621ft), notably St Catherine's Hill and Cheesefoot Head where runners will climb, climb, climb to then be rewarded with some fabulous views of the South Downs overlooking Winchester.
The runners then made their way along the Allan King Way, St Swithun's Way and the Itchen Way, before reaching the finish.
The intrepid trio all finished in some impressive times. First home was Luke Shearing in 4:34.26, followed by Luke Brocks (4:37.25) and Tom Millns (4:45.24) – and even time for a chat along the way!
At the same time head coach Daniel Allaway was taking part in the Milton Keynes marathon and hoping to secure a time to qualify for a good-for-age place in the London marathon next year and secure a sub 3:05 time.
Despite the lack of training after recovering from injury, Dan finished in an excellent time of 3:04.23, achieving all his goals.
The ever-popular Vitality London 10k returned, with some choosing to take part on the streets of London, while others took part virtually and closer to home.
In London, Stephen Sutton brought the team home finishing in a time of 59.00, closely followed by new club member Catriona Wiles in an excellent time of 59.11 and Helen Crainey (1:06.50).
A few days later in searing heat, Hesta Gilham, Janet Govan and Geema Reeder set off on their virtual Vitality London 10k, around everyone's favourite setting – the dreaded Longmoor.
With just the sound of birds chirping to cheer them on, the impressive three completed the 10k with some excellent times and, for Janet, a minute faster than her previous 10k.
Saturday morning saw Sebastian Linke take part in the Maverick Surrey long race, a 15.71-mile run within the Surrey Hills, and up until the North Downs Way with an estimated elevation of approximately 2,014ft.
Seb ran an impressive race, finishing in a time of 2:35.
A little further down the road, Dean Kellaway and Philomel Bennett set off to the Wiltshire countryside to take part in the Marlborough Downs Challenge 20, with views of the famous chalk carving of the white horse as runners approach the renowned Marlborough College for the start.
The route then took the runners through the glorious Marlborough Downs, winding its way along the Wansdyke Path, up on to Tan Hill Way and through the Mid Wilts Way with superb views across the Vale of Pewsey West Woods and Gopher Woods adorned with wild garlic. Taking in two of the highest points in Wiltshire at Knapp Hill and at Tan Hill.
The route then continued through to Avebury, with its pre-historic stone circle and views of Silbury Hill before heading towards Overton and Fyfield Downs back to the Marlborough Leisure Centre for the finish.
Each finisher was rewarded with a White Horse Pottery hand-made mug and then, once they had their breath back, were treated to free chips and doughnuts along with a cup of tea!
The dynamic duo ran the majority of the race together up until the last couple of miles when Dean, who had been struggling with a few niggles in the week, and tackling the heat, urged his friend to push on.
Philomel did just that and in doing so took the first lady position in a superb time of 2:51:59 with Dean not far behind in an excellent time of 3:00.14, good enough for 14th and 19th overall.
On Sunday morning Dean was back out for a 'recovery' run, having signed up to the delightful Runnyhoneys 5k, based in Bordon.
Dean's pace had definitely picked up from the day before as he smashed out a 20-minute 5k, finishing sixth.
A little later, Dave Bateman was at the start line for the ever-popular Alton 10, organised by Alton Running Club.
The route took runners through the pretty village of Holybourne and on to some undulating countryside and picturesque village lanes within Hampshire before returning to the college for the finish.
Dave maintained a steady pace until the heat increased towards the later stages, but he did have his trusted water vest on board! Dave completed his race in 1:43.59 which, given the conditions, he was rather pleased with.
HBAC runner Steve Pendegrass took part in the Volkswagen Prague Marathon. He had trained well and the race passed through the wonderful architectural buildings.
The morning got hotter and hotter, making it extremely challenging for runners. However, Steve persevered to claim a very well deserved PB in 4:26.3, ready to celebrate with a few Budvar beers.
On the weekend of May 14 and 15 club members took part in a number of races.
First up was the Thorney Island trail run when four runners took a trip to the seaside to take part in a race which offered runners a choice of a 15k or 21k run.
The sun was shining and with the smell of the sea air, it truly was a fabulous morning to be by the sea.
Philomel Bennett, Louise Bampton and Anne Stewart opted for the 21k and were first to set off at 9am with Mr Bampton ready to cheer them off at the start before his 15k race a little later.
The route took runners out on the road, through the boatyard and on to the trails circulating Thorney Island.
There was a mixture of terrain, including loose stones, sand and road as well as a number of wooden footbridges along a very narrow trail path, so eyes were on full alert.
The runners were also treated to an area of outstanding natural beauty with glorious views over Chichester Harbour, Prinstead Bay and the surrounding South Downs.
First home for the trio was Philomel, in a time of 1:44.45, taking fourth lady position.
Tom, who was running his penultimate race before his Big 50, ran at a good, steady pace to finish in 1:28.28.
That allowed for him to see his wife finish her race a little later.
Louise completed her race in a superb time of 2:27.08, and in her own words: "It truly was a beautiful half!"
Sunday saw the inaugural Cocking 10k trail race on a challenging course with a number of steady hill climbs, with all runners rewarded with a long descent to the finish line.
Some excellent results saw Sarah Hurford bring the Borders team home and secure the first lady position with a time of 48:23.6 and just under a minute ahead of the next lady.
Sarah was followed home by Rachael Selmes (55:12.1), Nigel Byrnes (56:30.2), Dave Bateman (1:01.07), Peter Varnes (1:02.44), Jenni Rayner (1:18.32), Sarah Barnett (1:18.34), Lorraine Herring (1:22.42), Helen Crainey (1:22.42) and Jane Squire (1:29.06).
A great team effort by everyone – and perhaps a special mention for Peter Varnes, who completed his first race in the W60 age category... perhaps a little more training on those IT skills and checking those race entries before pressing that submit button is required, before any further races are entered!
Hesta Gilham and Gemma Reeder opted for another local race at the Wisborough Green 10k.
The multi-terrain course takes runners on the country lanes surrounding the village, before returning to the finish line on the village green, where all runners are greeted with enthusiastic cheers from supporters and the aroma of a barbecue cooking sausages and burgers – an ideal reward for all runners.
Continuing her excellent recent form, Hesta Gilham finished in 54.30, closely followed by Gemma Reeder in 58.22.
The popular Woodland Woggle trail race, through the beautiful setting of the Hampton Court estate and Puttenham Common, offered all runners an undulating course, great views and stunning bluebell woods, before returning to the finish line – and again the opportunity for all to reward themselves with a bacon sandwich, cake and coffee.
The club were represented by Tania Corrigan, finishing in an excellent time of 47.14 and third in her age category.
By Ann Varnes and Philomel Bennett
Comments
To leave a comment you need to create an account. |
All comments 0