Portsmouth Hospitals University NHS Trust has unveiled plans for a series of substantial enhancements to the QA Hospital site over the next two years – including a new entrance and Marks and Spencer Food outlet.
The trust says these improvements aim to ensure the delivery of "high quality services in efficient, well-maintained and well-designed buildings".
The initial phase of the project, the main entrance extension, has recently got underway. This extension will introduce a new lecture theatre and retail space, creating a "modern, welcoming, and safe environment for patients and visitors".
The construction work, which began in mid-May, is expected to last for approximately 12 months. During this period, visitors to the hospital will experience a few noticeable changes, including the closure of the usual revolving door at the entrance.
However, a temporary side entrance has been opened in its place to ensure uninterrupted access. Additionally, hoarding will be erected around the construction area to ensure safety and security.
Key features of the main entrance development include the installation of a new Changing Places facility, which will be one of three such facilities to be developed across the site in the future. This facility will provide an accessible toilet and changing space, catering to the needs of individuals requiring specialised care.
Furthermore, a lecture theatre will be added to facilitate educational activities, while a new Marks and Spencer Food and The Stock Shop will offer convenient shopping options to all.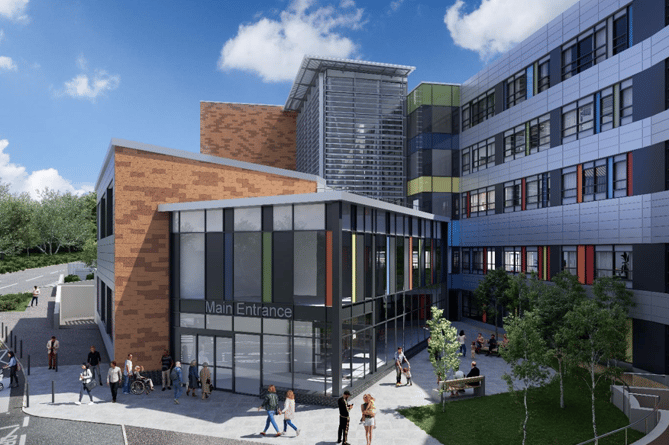 A visualisation of the new QA Hospital entrance
(Portsmouth Hospitals NHS Foundation Trust)
Once the main entrance works are completed, the trust will proceed with the development of the North Entrance. Further details regarding this phase will be shared in due course.
Mark Orchard, chief finance officer at PHU, expressed enthusiasm for the project, stating: "This fantastic new development will significantly enhance the experience of those visiting our hospital site."
He further emphasised that these improvements are part of a broader initiative to enhance the QA site, including the creation of improved green spaces.
To bring these plans to fruition, PHU has partnered with noviniti, a company experienced in working at the QA Hospital site, having previously built the North car park in 2022.
Marc Hastings, chief executive officer of noviniti, expressed delight at being appointed as the trust's development partner for the Main and North Entrance projects. He highlighted that these combined schemes will provide dedicated public spaces, retail shops, and new Trust facilities, ultimately enhancing the overall hospital experience for all residents of Portsmouth.
Andrew Jones, managing director of One Retail, shared his excitement about delivering expanded retail services at the hospital, benefiting patients, staff, and visitors alike. He emphasised that the new front entrance will offer a warm and welcoming experience to all who enter.
For further information, interested individuals are encouraged to visit the hospital's website: porthosp.nhs.uk