Waverley Borough Council's executive head of planning has refused planning permission for an additional 111 new homes and a new scouts headquarters at Red Court in Scotland Lane, Haslemere.
'Phase Two' of landowner Redwood (South West) Ltd's so-called Scotland Park development proposes up to 111 new homes – adding to the adjacent 50-home estate granted planning permission at appeal, and sold last year to Elivia Homes.
Redwood's latest plans also propose to gift eight acres of land for a new headquarters to 1st Haslemere Scout Group, to replace its current headquarters at the Wey Hill Youth Campus which unlike the Red Court site is earmarked for housing in Waverley's Local Plan.
1st Haslemere Scouts has endorsed this proposal, with Paul Buckler, chairman of 1st Haslemere Scouts' executive committee, writing in a letter to the planning authority: "Scotland Park Phase Two offers a unique opportunity to secure a permanent home with a hall and ample land to expand our programs.
"Our vision for Scotland Park is not only to benefit the Scouts, it is to make the facilities available for other organisations, schools, and community groups.
"Scotland Park will enable us to bring essential life skills to more young people in Haslemere and help us achieve our charitable goals."
However, Waverley planning chief Claire Upton-Brown threw out Redwood's plans before they could make it to a planning committee – echoing comments made during the council's long, and unsuccessful, fight to prevent the initial 50-home scheme at Red Court.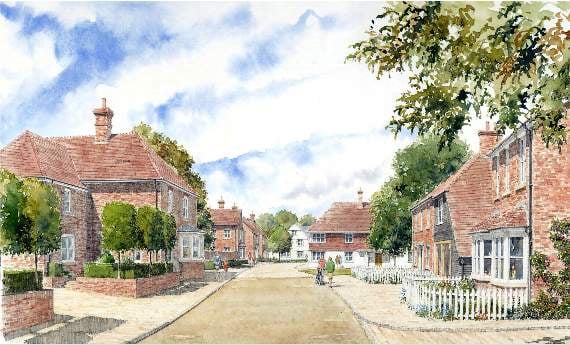 Artist's impression of Redwood's proposed 'Scotland Park' plan for Red Court, Haslemere (Photo: ADAM Architecture)
Ms Upton-Brown's decision notice states the latest 'Phase Two' proposal fails to meet several planning policies, including preserving and enhancing the landscape and scenic beauty of the Area of Outstanding Natural Beauty (AONB) and the setting of the South Downs National Park. 
The proposal would also harm the intrinsic character and beauty of the countryside, said Ms Upton-Brown.
Concerns were also expressed for the wildlife corridors adjacent to Midhurst Road and within the northern central area of the application site, as well as for the impact on protected species such as great crested newts, hazel dormice and bat species.
In addition, Ms Upton-Brown said the proposal failed to create a sustainable, inclusive and mixed community, and would fail to maximise opportunities for sustainable travel.
Responding, a spokesman for Redwood (South West) Ltd said: "Our plans offer tremendous benefits to the public and not just the people who would live in the highly energy efficient and beautiful homes designed by ADAM Architecture.
"1st Haslemere Scout Group would benefit from a new headquarters and land, giving them much-needed security. Grayswood Nursery and Forest School would benefit too.
"The cost of housing in Haslemere is some of the highest in the south of England, so our planned 35 per cent of 111 dwellings being affordable housing would deliver much-needed housing for residents trying to get their own home. We will take time to thoroughly digest the report and decision before considering our options."