Watch out world! Six young entrepreneurs, aged ten to 15, are about to take Farnham's retail scene by storm.
Talent spotted at the Children's Business Fair (CBF) events, these up-and-coming stars are set to launch their businesses at Rainbow Roar, Farnham's new hub for makers and crafters.
Farnham retail entrepreneurs Anna Londei and Sarah Arbury have hand-selected the cream of the crop to feature in the CBF Showcase – a dedicated section of their Downing Street shop.
The CBF Showcase is home to the best and most innovative products made by Children's Business Fair entrepreneurs.
Featuring a range of hand-made bird boxes, hand-embroidered gifts and totes, intricately-painted geometric stones, recycled crayon letter shapes, modern acrylic artworks and brightly-coloured bracelets, these young entrepreneurs are a force to be reckoned with.
Rainbow Roar's Anna said: "This collection of talented young entrepreneurs are incredible. Their amazing products stand side by side with our adult makers, proving Farnham really is a town of entrepreneurs, makers and do-ers, no matter their age.
"We're so proud to be working with the Children's Business Fair and this group of amazing young people."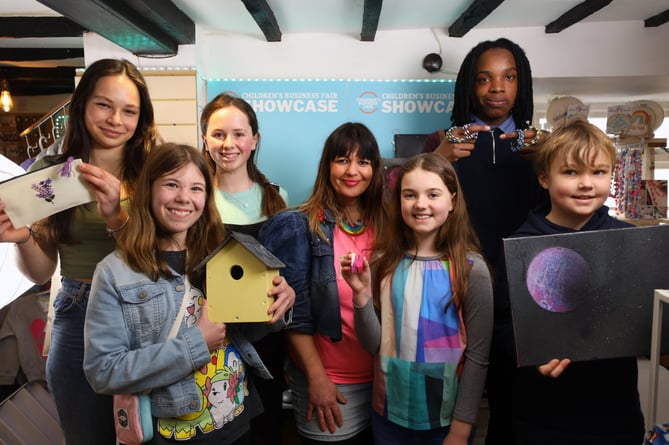 The CBF Showcase will be given a dedicated section of the new Rainbow Roar shop in Downing Street, Farnham
(Luke Whatley-Bigg)
Children's Business Fair founder Sam Rogerson added: "We couldn't be prouder to partner with Anna and Sarah at Rainbow Roar to give CBF entrepreneurs a real-world opportunity to sell their products in a retail setting. Together, we share the values of celebrating creativity, hard work and entrepreneurship."
Rainbow Roar has been born out of the Wallababies independent makers-marketplace at 18 Downing Street, Farnham, and will open on April 1.
A hub for small creative businesses to sell their hand-crafted designs, founders Anna and Sarah understand the challenges of owning a small business.
"We know first-hand how passionate these owners are but they may not get the opportunities to reach the wider audience that the high street offers," said Sarah.
"That's where we come in – we roar about shopping small!"
Planning exciting workshops and further pop-up opportunities, Anna and Sarah are big on collaborations with local makers.
"From our research Farnham is the perfect town to embrace this unique shopping experience," added Anna.
"We just can't wait to get going!"
The Children's Business Fair was founded by Sam and is on a mission to raise the next generation of gritty problem-solvers who learn by doing in real world settings.
At CBF events, young entrepreneurs – aged seven to 17 – plan, create a brand and marketing strategy and manufacture products ready to sell to customers at this one-day marketplace.
Since 2018, 1,000-plus young entrepreneurs have launched more than 700 businesses and sold to tens of thousands of amazed customers.
The next event will take place this Saturday, April 1, at the Farnham Maltings.