This phase of construction includes the long-awaited Morrisons supermarket and its multi-storey car park, 175 new apartments, a high street shopping parade with seven new shops, and the Mess Hall which will contain a whole host of restaurants and shops alongside a new dedicated theatre space, an art gallery, and a local history museum.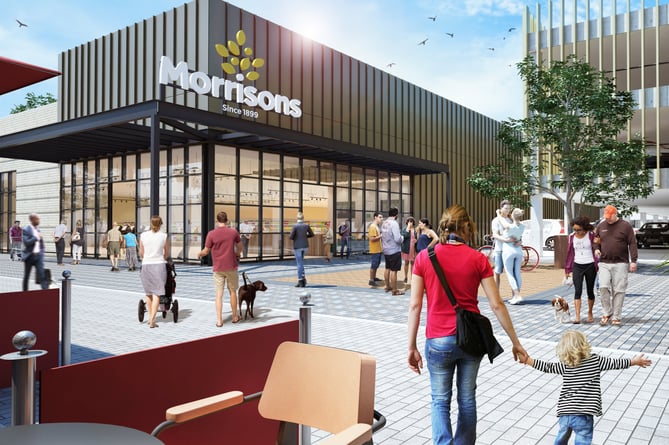 An artist's impression of Whitehill & Bordon's new town centre
(Whitehill & Bordon Regeneration Company)
This permission means the Whitehill & Bordon Regeneration Company (WBRC) can go straight into finalising construction designs before starting work on-site in November 2022.
Morrisons and the car park are scheduled to be open for Christmas 2023. This will be followed by the opening of Block A of the retail/office space and residential apartments in late-spring 2024, and Block B of retail and residential space by autumn 2024.
The Mess Hall will also be open by autumn 2024 while the final section of residential apartments will be ready by the end of 2025.
Overall, this phase of construction is expected to create around 850 new jobs excluding the 150 jobs already created at the leisure centre and The Shed.
This phase of construction does not include the Health Hub, but amid ongoing speculation over Whitehill & Bordon's future healthcare provision, the WBRC informed the planning committee that formal planning permission for this will be submitted before the end of 2022.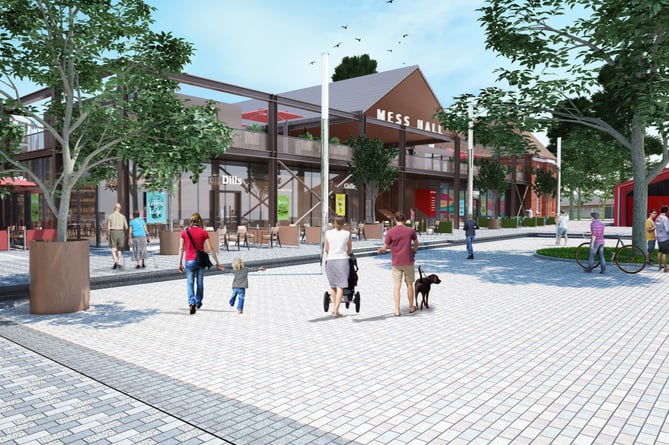 An artist's impression of Whitehill & Bordon's new town centre
(Whitehill & Bordon Regeneration Company)
James Child, project lead at WBRC, said: "We are absolutely delighted to have been granted permission for this phase of the town centre.
"It is an essential part of the vision for the town because it will provide vital infrastructure to support the long-term prosperity of Whitehill & Bordon.
"It will make the town a cultural hub in Hampshire and do immeasurable good to the local economy with a combined focus on leisure, entertainment, retail, business, and homes.
"We greatly appreciate the support of East Hampshire District Council and their continued steadfast belief in this project."
East Hampshire District Council has been working with developers for nearly a decade on Prince Philip Park – one of the largest regeneration projects in the UK – on the site of the old Prince Philip Barracks.
The council initially permitted 2,400 homes, a new town centre, a new school and leisure and employment facilities in 2014.
Committee members strongly supported the proposals at Thursday's planning committee meeting, with all councillors voting unanimously in favour.
Chairman of the planning committee, Cllr Sally Pond said: "This has been a longstanding piece of work for the regeneration of Whitehill and Bordon.
"It is so exciting, I'm delighted – on this application we've only had two representations from the public, you normally get about 20 for an extension next door."
Cllr Jonathan May added: "It's a fantastic opportunity – I feel that the application will give Bordon a new identity, a real upmarket place that people will want to live in."