A nine-year-old from Alton is giving David Walliams a run for his money after publishing her first book.
Butts Primary School pupil Daisy Shrimpton-Mace came up with the creative idea for Vikings, Dragons and Monsters after learning about Vikings at school. 
The youngster, supported by mum Ellie and dad Ollie, has always dreamed about becoming an author and turned this idea into a reality, writing the 194-page book over a four-week period. 
The story follows Sophie, a fearless little girl who, alongside her trusted companion Biscit the dog (intentionally misspelt by Daisy), sets out on a whirlwind adventure back in time, fighting off all obstacles that come their way, including vicious Vikings, dragons and, of course, monsters.
Sophie somewhat mirrors the creative and adventurous young author, while sidekick Biscit is a lovingly based on family dog Roxy, owned by Daisy's aunt Shrimpy.
The book has been warmly received among the Alton community with a launch party taking place at Goldfinch Books on the High Street last Friday. 
The popular local café and bookstore was filled to the brim with supportive friends and family, all keen to get a first glimpse of the book and get a specially-signed copy by the author herself.
Goldfinch Books is a special spot for Daisy, who often enjoys a hot chocolate and sweet treat after school in the café with her aunt and uncle. 
In fact, the road to publication also started there, when Daisy showed her writings to owner Gary Clark, who went on to help edit and publish the novel.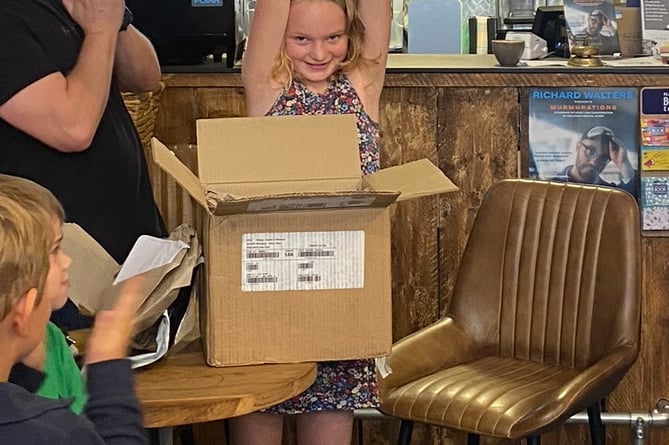 Daisy Shrimpton-Mace, 9, from Alton, holds her novel aloft at the Goldfinch Books launch
(Natasha Cocksedge)
Guests heard all about the creative process behind the book at the launch with Gary praising the youngster's writing skills and imagination before watching her open the box of books. 
She then excitedly held one in the air before proudly placing copies on the shelves, which was met with rapturous applause. 
However, the multi-talented nine-year-old is not just skilled at writing. The brightly-coloured book cover displays an impressive drawing of a Viking ship, with protagonist Sophie right at the bow. This front picture is just a taster of many more images throughout, which illustrate the story, and were all drawn by Daisy herself.
The young author isn't ready to stop just yet. This appears to be the very start of her writing career and she's brimming with ideas to write even more stories, with six more books currently in the works. 
Mum Ellie, who is a teacher at a local school, said: "She's always taking inspiration from her surroundings, and one of the books she is working on is even about a pigeon diary!"
Vikings, Dragons and Monsters is available instore at Goldfinch Books or online at Amazon, Waterstones, and eBook. 
You can also head to www.goldfinchbooks.com for more information.