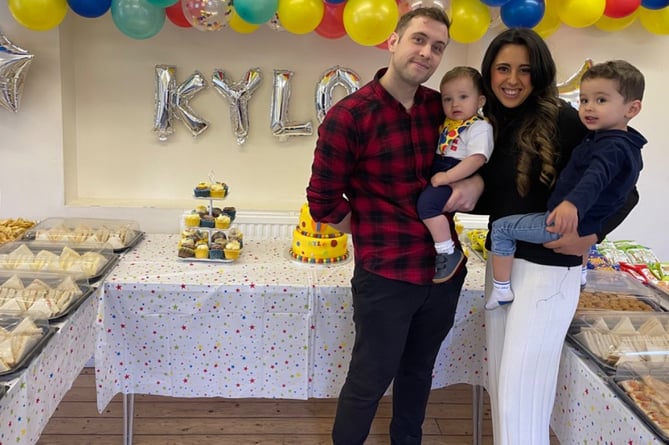 James and Ria Townson with their children
Subscribe newsletter
Subscribe to our email and get updates right in your inbox.
JUMPING out of a plane is an exhilarating way to celebrate your 30th birthday – but there will be a serious side to it for Ria Townson.
Her husband James found he had skin cancer last year at the age of just 30, and she wants to prevent others suffering in the same way.
She said: "With the summer months now approaching and heatwave on the horizon, it is so important to get the message and awareness out about keeping your skin safe and checking those moles, especially the younger generations who think they wouldn't be diagnosed with cancer because of their age."
A malignant melanoma was found on a large mole on the side of James's face, which Ria said came as "a huge shock".
She added: "At that point, from what they could see, James had at least stage 2b and we waited months for his first surgery to remove the cancer from his face and some lymph nodes in his neck, as this would have meant it could have travelled to other vital organs in his body."
A month after surgery James had a negative test result, but the stress brought on mental health issues in Ria. As she recovered from those problems James' cancer returned worse than before and in his lymph nodes, increasing the possibility of it spreading – but his doctors were on the case.
Ria said: "Fortunately the cancer team at Royal Surrey have been phenomenal and didn't make us wait long before he had all the necessary scans and was booked in for another surgery to remove what they knew was there.
"The scans showed the melanoma hadn't spread anywhere obvious in the body. However it was made very clear that the type of cancer James has is known to spread microscopically so may not appear on scans until it grows larger."
The couple, who have sons aged two and one, are waiting on more test results to see whether James needs further treatment such as immunotherapy and are aware his type of melanoma could be a 'living with cancer' situation until he can keep clear of the disease for five years.
Ria is raising money for Melanoma UK and a charity supporting cancer patients and their partners, The Fountain Centre at the Royal Surrey Hospital.
She jumps from 15,000ft on July 14 and has raised £2,670 so far. She wants donations rather than gifts or a party. To donate visit https://gofund.me/2687879f
Comments
To leave a comment you need to create an account. |
All comments 0